FT Hardware Sdn Bhd
87, Jalan Bakawali 48,
Taman Johor Jaya,
81100 Johor Bahru,
Johor, Malaysia.

+607-3544588

+607-3544588

MS 602 MS Polymer Low Modulus 600ml
X'traseal Sealant --- MS Polymer Adhesives / Sealant ---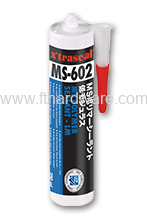 Description :
MS-602 is based upon Hybrid Silyl Modified Polyether Technology. It is a neutral, single component, low modulus with high movement capability joint sealant. It has an outstanding bond strength and primerless adhesion on various types of substrates. It can be painted with most kinds of paints and has superior weatherability in all climates. It will not form bubble within sealant even in a high temperature and humidity applications or apply on moist surfaces. It is a high performance flexible elastic sealant suitable for all kinds of applications and conditions.