FT Hardware Sdn Bhd
87, Jalan Bakawali 48,
Taman Johor Jaya,
81100 Johor Bahru,
Johor, Malaysia.

+607-3544588

+607-3544588

4 MIns Steel Epoxy
X'traseal Sealant --- Epoxy Adhesives ---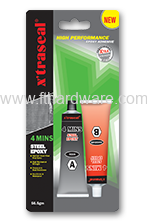 Description :
4 Minutes Steel Epoxy is a steel filled fast setting, non shrinking gray colour epoxy adhesive. It offers good gap-filling capabilities and slumping characteristics. It will chemically bond steel, brass, copper, bronze, iron, plastic, wood, concrete and ceramics. Withstands high temperatures and is pressure resistant. Use to repair: worn valve seats, cracked housings, coppers and cylinder heads, gas tank leaks, radiator leaks, torn keyways, stripped threads, worn pulleys, loose screws, etc.
Code No.
Packaging Size
Packaging Details
Inner Box
Outer Carton
x-4MS/20
2 x 7ml Tubes Carded
24
288
x-4MS/34
2 x 17ml Tubes Carded
12
144
x-4MS12/14
12 (2 x 7ml) Tubes Carded
-
12
x-4MS/1000
500ml x 2 Cans
-
6